There has been an increasing frequency of anti-social and dangerous behaviour around the Tweed Valley.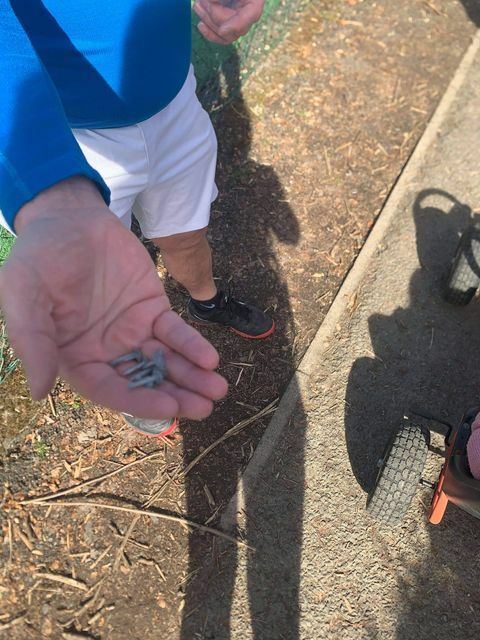 A small number of individuals have taken upon themselves to obstruct and place hazards on paths and trails. The hazards range from branches laid across trails through to roofing tacks scattered on paths and even metal poles and branches, placed between trees at waist and head height, across trails.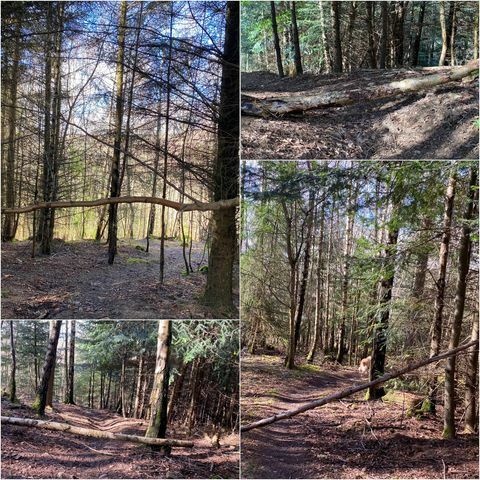 The impact of their behaviour can range from:

Dogs or horses with roofing tacks needing a vet
Small kids falling onto, or anyone standing on, these roofing tacks causing injury and requiring a visit to Borders General Hospital (BGH) for a Tetanus booster.
A mountain biker thrown over the handlebars or knocked off their bike by a head height trail obstruction and subsequently requiring, possibly a mountain rescue team to extract them and, a visit to BGH. Janet's Brae and Cademuir are both popular areas with local kids due to the close proximity with the town so the likelihood of it being child is quite high.
Some of the team at BGH have responded to the Tweed Valley Trails Association (TVTA ) social media posts supporting the need for exercise for peoples mental and physical health and offering to provide quotes regarding the burden of extra injuries would place on the NHS.
We don't know what motivates people, we can only guess: Dog owners failing to pick up after their animals or keep their dogs under control, people on bikes not using bells on shared paths or exiting mountain bike trails too fast. Whilst there will be the odd example of these it is no excuse to sabotage the area and inconvenience and endanger everyone who uses the paths and trails. What you are doing is being the minority who gives a user group a bad reputation.
We are privileged in Scotland to have a freedom to responsibly roam under the Scottish Outdoors Access Code (SOAC). SOAC is based on three simple principles:
• Respect the interests of others.
• Care for the environment.
• Take responsibility for your own actions.
Obstruction in a public place and Aggravated trespass are two criminal offences that apply to this behaviour.
Forestry Land Scotland (FLS) is aware of the recurring issues at Janet's Brae and Cademuir and has tasked Rangers to inspect and clear the trails. Limited resource that is already stretched, providing safe access to all on their estate, dealing with wear and tear and the naturally occurring obstructions such as windblown and snow toppled trees.
The Janet's Brae issue has been reported to both Police Scotland and the local Outdoors Access Officer. If you do see someone sabotaging the paths and trails around the valley, trying to obstruct or disrupt people's lawful activities or obstructing a person's lawful passage please take their photograph and report hem to the Police Scotland. We don't not recommend trying to engage in dialogue, their behaviour indicates an intent to harm, so do not put yourself at increased risk by approaching them.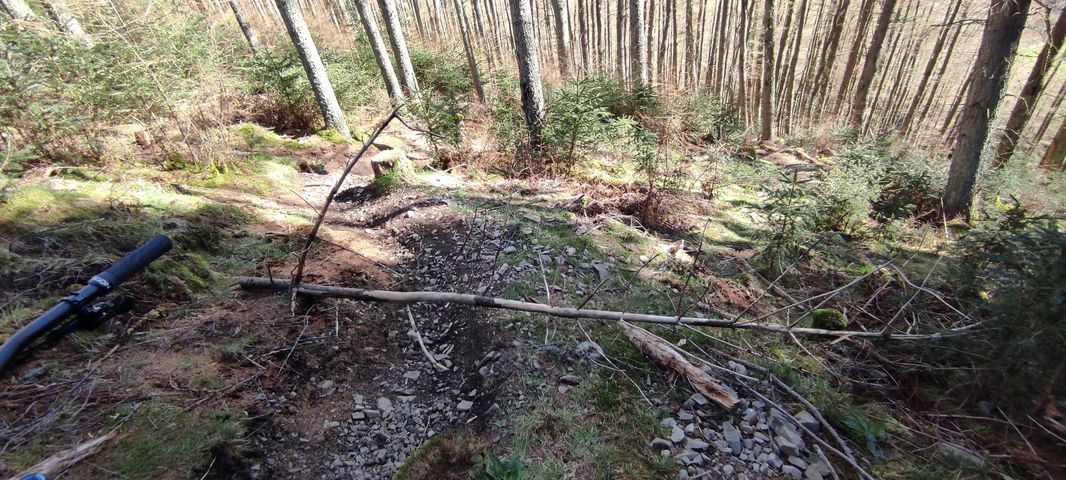 A sample of reports we receive in a one week period:
Janet's Brae, Glentress
AMcQ – Numerous Trees placed to block the trail and others in an attempt to catch out mountain bike riders . Hazards cleared form the trail.
KC – Significant sized branches obstructing the trails placed at varying heights form head height down. Branches removed and trail left clear.
CTW – Multiple silver birch trees placed across the trails, both to obstruct the trail but also positioned after corners and drops in what appears to be an attempt to injure. Trail cleared.
Innerleithen
JM – Roofing tacks have been scattered on the shared-use paths around the town. Handfuls of tack picked up.
Cademuir
RD – Metal pole across the path above ground level and logs/branches on the path
MC – Large diameter, 5-6ft long logs laid along mountain bike trails
Glentress
Near miss by a runner on walking trails in Glentress – obstacles placed on the path in difficult to see spots.